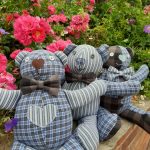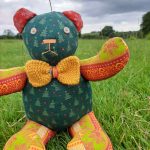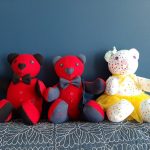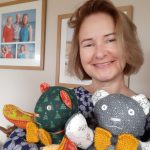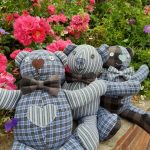 Make your own Memory Bear, Saturday & Sunday 10th and 11th July 10:30am – 3:30pm.
£65.00
welcome to this much anticipated memory bear workshop with Clare of 'Nella'smemory bears'.
A memory bear uses preloved sentimental clothing such as baby grows, a school uniform, or shirts of a loved one which are then transformed into an adorable teddy bear. Each bear is completely unique to you and a lovely way to preserve memories, special occasions or to pass on key moments to the next generation – or with Christmas almost upon us, it's also fabulous as a surprise handmade gift.
During this workshop, you will be guided step by step and learn plenty of tips to make your very own personalized keepsake bear. You can chose from our wonderful range of fabrics, bows and buttons, or alternatively you are welcome to bring your own favourite fabrics from home.
Before the workshop – Choosing your fabric: 
Choosing your fabric is the first key step as this will determine the character of your bear. You will need to select your fabric prior to the workshop day, as this will ensure you can get straight into the making process. Our range of Liberty cottons are ideal for memory bears, especially the ones which have a small scale pattern.
As a guide, you will need at least half a metre for your main colour theme (assuming fabric is  at least 110cm wide ) plus a 50cm x 50cm piece of contrasting fabric for inside arms / legs, and ears.
An additional fabric allowance may be needed if you wish to pattern match, and it's always good to allow for some extra fabric in case of mistakes when cutting. If you plan to use a lighter fabric, iron-on interfacing is recommended to add a bit of extra strength.
Preloved clothing can also be fashioned into a memory bear such as shirts, school uniforms, baby clothing etc. However, we recommend making your first bear out of regular fabric so you can get a feel for how the bear comes together before embarking on using these precious fabrics.
We have set aside two days for this class, however you may finish before, if necessary people are welcome to return on Sunday in order to complete their bears.
All materials are included (you may wish to bring your own precious items). Lunch is also provided on Saturday. 
1 Left In Stock