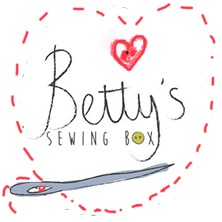 Well so much for January being a slow month! The workshops have started with a vengeance, we've had some lovely new stock as well as lots of Liberty and a selection of new fabric from Art Gallery. The website is up and running with online payments for workshops, and this month we should be able to sell our fabric online too. The workshops are my favourite and it's
Hi  been lovely to see all the creativity emerging from the workroom.
The resident Elves have been busy making Valentine cards – £2.75 each or two for a fiver 😉
Also lots of lovely fabric packs. The Elves' biggest achievement this month must be sorting and colour coordinating the buttons!

We had a few firsts this month – our first bullet journal session – this is a chance to get motivated and achieve our goals. We meet the first Tuesday of the month 10.30- 11.30am. Also 'Stitchfulness' – take time out and do a bit of embroidery in the moment – we meet the last Monday of each month 10.30-12. Both sessions are student led so only the cost of a cuppa.
We also have our regular Knit and Natter every Monday 10-12pm in the tearoom.
I need a large G&T having got to the end of this blog AND managing to insert photographs😳 maybe I don't need a 14 year old to do it for me after all 😊
Have a great February keep warm
Annie
Namasté