Create a baby quilt, wall hanging or cushion with your friends & family. Working collaboratively make a completely unique item that will become a treasured heirloom. We will work with you to make this a memorable occasion and source fabric to suit your colour scheme. Use vintage lace, buttons, silks and beads to embellish and embroider your 'patches'. The combined patches will make a stunning keepsake.
This is an easy and fun workshop and, for those with minimal or no sewing experience we can teach the basic stitches, and for more advanced sewers we can give tips and tricks.
Class Length: 2 hours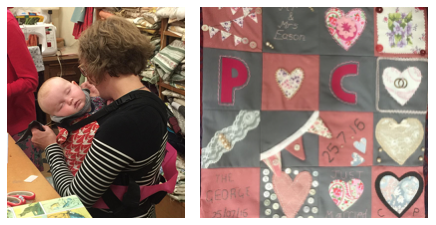 You are free to take your patches away and make them up yourself or for an additional fee we can make up your item and send it to you.
£25 per cushion
£75 per quilt

Enquire Today
Please simply fill in the form below with your requirements and we will contact  you to discuss tailoring your party.